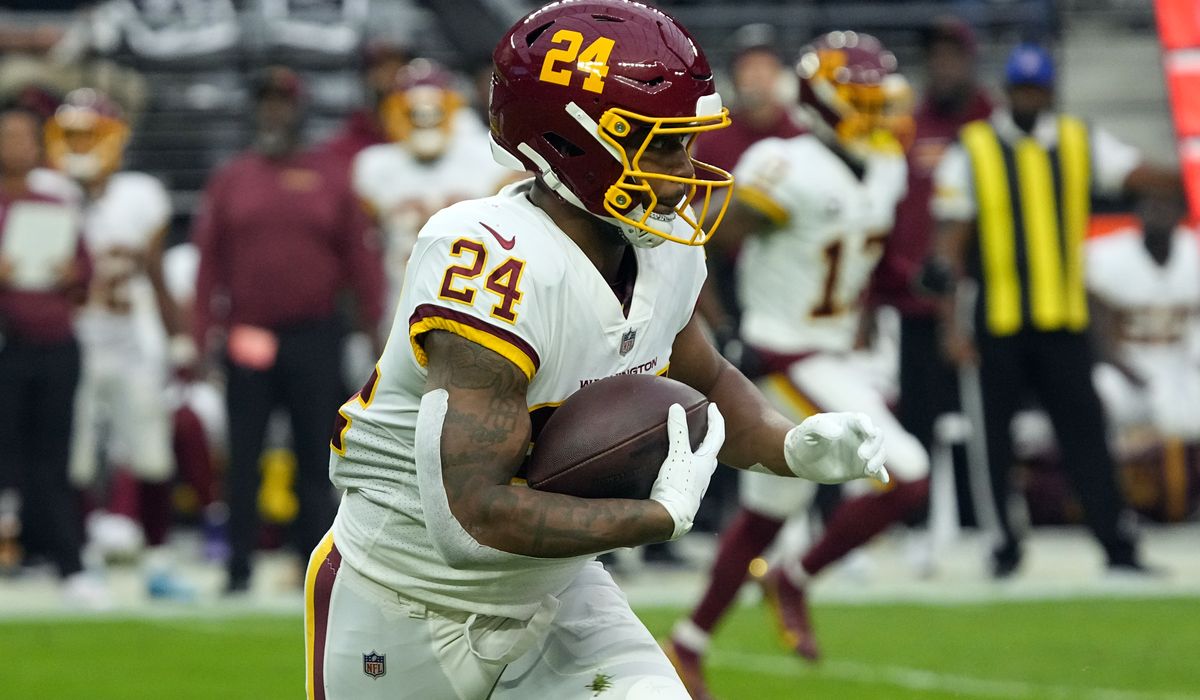 ASHBURN — Scott Turner can't remember the specifics, but he noted how someone recently pointed out just how many 1,000-yard rushers his father, Norv, coached in the NFL. That number, it turns out, is 18 over 28 seasons. Long before he got into coaching, Turner remembers how running backs like Emmitt Smith and Stephen Davis ran free in his dad's offenses.
So to Turner, now in his second year as Washington's offensive coordinator, the team's recent shift to a run-heavy offense hasn't really been much of a shift at all.
A steady rushing attack, he says, has always been key to the Air Coryell offense — the scheme Turner learned from his father, a scheme that goes back decades.
"It's been the power running game and the chunk-down-the-field passing game," Turner told The Washington Times. "That's what that offense has really been about."
Lately, Turner has run the ball more than ever — even if he doesn't see the shift as a philosophical change in the overall strategy.
In the first eight games of the season, Turner dialed up the run 42.5% of the time. And during the Burgundy and Gold's four-game winning streak, that percentage has climbed all the way to 55%. In that span, Washington has averaged 36.8 rushing attempts per game — which would lead the league if expanded over a whole season.
Even last year, when Washington juggled four quarterbacks, Turner had a 60-40 pass-run ratio. The league average was a 57-43 split.
So what's changed?
Coach Ron Rivera said Turner and the offensive coaching staff determined at the team's bye week that running the ball could be a more effective strategy for the second half of the season. Turner downplays that. He said he's developing game plans based on matchups and sticking with what's working. The Carolina Panthers, for instance, had a smaller, more athletic defense — giving Washington the impression it could the game on the ground.
The circumstances of the games, too, have been beneficial to Washington.
The team isn't falling behind early, so Washington doesn't have to air it out to keep pace.
Over the last four weeks, Washington has also been one of the league's best on third downs — converting 50% of the time. "You're able to dictate (the flow) a little bit more," Turner says.
Whatever prompted the adjustments, Turner has adapted. And Washington's offense has been better off for it. And in the process, Turner has started to receive recognition — not just locally but nationally.
"To me, that's the essence of coaching," says ESPN analyst and former NFL general manager Mike Tannenbaum said. "The ability to know what you have and get the most out of 'em. Scott has done a really nice job."
Tannenbaum praised Turner not just for coming up with game plans to counteract opposing defenses, but he pointed to the coordinator's handling of quarterback Taylor Heinicke this season. The 28-year-old, in essentially his first season as a full-time starter, has made strides under Turner with his accuracy dramatically improving as the season has progressed. Turner said the run game has helped "take pressure" off Heinicke and the offensive line.
Last month, NFL.com listed Turner, 39, as a potential future head coaching candidate in a column that examined the top options under 45 years old. The website placed Turner in the "others to watch in coming years" category. While Turner may not be mentioned for vacancies in this upcoming coaching cycle, Tannenbaum said Turner's "clearly" on a positive career trajectory.
"He took the foundation of his dad, but has certainly evolved (the offense,)" Tannenbaum said. "That's been very impressive to watch."
That evolution can be seen in Washington's newfound rushing attack. Specifically, Turner incorporates pre-snap motion — often sending a wide receiver or tight end to the opposite side of the formation — to bait defenses and keep them guessing. Turner does this so much that Washington ranks top five in pre-snap motion on run plays (67%, fifth) and in the top 10 (58.2%, eighth) overall.
Wide receiver Terry McLaurin said Turner will disguise runs by trotting out different formations, as well. Even if Washington runs the same concept, it can come from a different look. Some formations make it harder to tell if the play is a pass or run, McLaurin said.
"What we're doing a really good job of is just sticking with what's working," McLaurin said. "We have a lot of different moving parts within our offense, but I feel like we do a good job of marrying it together."
As much focus as there is on the run game, Washington's offense isn't blowing teams out. During this win streak, Washington is averaging only 3.7 yards per carry — actually less than the 4.6 the team averaged over the first eight weeks.
But Turner will gladly take the tradeoff. His team has the ball more and is controlling the time of possession.
Turner realizes that, at some point, there will be games that call on Washington to air it out. Part of being a functional NFL offense is to "be able to do it all," he said.
Still, in his time as a young play-caller, Turner has noticed something: These days, most defenses essentially bet of the fact that offenses won't be patient enough to consistently call runs.
Turner said defensive coordinators are well aware that the NFL has become a pass-happy league. There are young coordinators, like himself, who have reputations that they're determined to make their mark through the air. "If the defensive coordinators know that, what do you think they're going to try and stop?" he asks.
"You've just got to be able to call their bluff," he said.